As it gets closer to November on the calendar, we thought we'd let you know that planting season will be soon upon us.
The bareroot trees will start to lose their leaves and go into hibernation for the winter.
As you can tell, the best time to order and plant them is from November to March when the trees are sleeping. Moving bareroot trees from the soil in the summer period can cause root damage or shock the tree. This would be similar to someone moving your bed to another house while you're still awake on the bed. You wouldn't be very happy!
To tell if a tree is bareroot, it can be found under 'History' on the same table with price, quantity and size.
(Example below)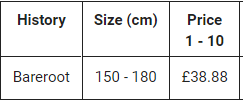 Many customers have already pre-ordered bareroot trees from us. If you want to order a bareroot tree, you have to order quickly.